Benet's List
Everybody knows Benet, right?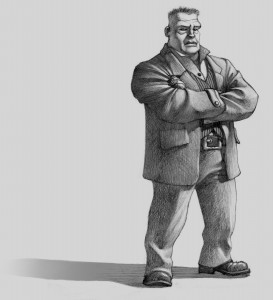 Tough guy, bodyguard, baker of biscuits.
  Right now I'm working hard on revisions for the fourth Magic Thief book (title   to be revealed soon!), and my awesome editor says I can include Benet's to-do   list, which might have his shopping list in it, too.
I've got some fun ideas for this, but I wanted to ask you, too.
What do YOU think Benet would have on his to-do list, or on his  shopping list?
If I use your idea in the book, I'll give you a shout-out in the  acknowledgements!
(illustration by Antonio Javier Caparo)