Magic Thief #4!
Every day readers show up at my website using search terms like this:
magic thief 4 by sarah prineas
and
is the fourth magic thief book going to come out?
and
the magic thief book four
and
is there a fourth magic thief???
And AT LAST I can answer that question with a big, giant, happy YES!!!  There is a fourth Magic Thief  book–it is written, and my wonderful publisher, HarperCollins Childrens, is going to publish it.  I'm not absolutely sure yet when it'll be out–maybe not for a while–but it's definitely coming.
Here's what the fourth Magic Thief book is about:
It's called Chimney Swifts (that's my title for it; my publisher might change it), and it's about what happens when a gang of chimney sweeps are going down chimneys in Wellmet to steal locus magicalicus stones.  Everybody suspects Conn, of course, because he is a thief, so he (and the little dragon Pip!) has to join the sweeps to figure out what's really going on.  What he discovers is that his biggest enemy has returned to Wellmet and is up to no good…
So now I have a question for you, if you're a Magic Thief reader.
The first book is blue:  
The second book is red: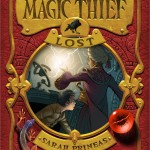 And the third book is green: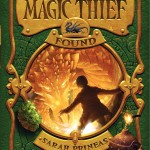 What color do you think the cover of the fourth Magic Thief book should be?  Leave a comment if you think you know.