Reviews: The Magic Thief Series
Reviews of The Magic Thief
Here's a sweet book-blogger review of The Magic Thief
A newspaper review from India!
Fellow writer Alex Milway from the UK wrote a fun review
A review from Books4Your Kids.com!
A review from Beth's Book Review Blog
And another Beth's lovely review
BestFantasyBooks.com– review of paperback
Best Fantasy Books blog  review 
A review in the national newspaper of India.
The Recorder, in England (a kid review!)
School Library Journal Review of the audiobook
ReadKiddoRead review
The Guardian review
School Library Journal Review
A positive review from kidsread.com
Financial Times in the UK review
Bookbag Blog review
Publisher's Weekly review
Bulletin of the Center for Children's Books (starred review)
Teachery review
Bookhound review
Wake County Public Library review
A Year of Reading blog review
Literate Lives review
Kirkus (starred)
Booklist (starred)
YA Books Central
Teens Read Too (five stars, "gold star award")
The First Look reviews (from readers of ARC's sent out by HarperCollins)
Author R.J. Anderson's blog
School Library Journal Review
Gr 3 6 Conn, a pickpocket on the streets of Twilight, one day picks the pocket of a powerful wizard and steals his locus magicalicus, the center of his power. It should kill Conn, but it doesn't. Nevery, the wizard, has just returned after a 22-year exile, to try to save the town from the leaching of its magic, upon which so much, including its economy, depends. Curious about the boy, Nevery takes him on as an assistant and then an apprentice. Although it is the wizard's job to stem the tide of the disappearing magic, he seems unable to do so. Conn believes he knows the answer, but his enemies are closing in. Prineas has created an appealing cast of characters, which she carefully reveals through their actions. The story is told primarily by Conn, and is interspersed with cryptic journal entries by Nevery, which offer a tantalizing counterpoint to the protagonist's viewpoint. Their voices are consistent and well handled. Exciting without being frantic, the narrative wastes no time getting to the heart of the story. This novel would work well as a read-aloud, as it has a conversational rhythm that moves the plot along. The book is long, but the large print and appealing drawings will encourage younger readers. Fantasy and adventure lovers alike will groan when they get to the tantalizingly mischievous ending, and are likely to hound you until the sequel arrives. Sue Giffard, Ethical Culture Fieldston School, New York City Copyright Reed Business Information, a division of Reed Elsevier Inc. All rights reserved.
Publisher's Weekly gave The Magic Thief a lovely review:
The Magic Thief
Sarah Prineas, illus. by Antonio Javier Caparo.
HarperCollins, $16.99 (432p) ISBN 978-0-06-137587-3

Readers clamoring for magical tales will enjoy Prineas's fast-paced first novel, the opener of a promising trilogy. Connwaer, a preteen pickpocket, steals the locus magicalicus from the most revered and powerful wizard in the city of Wellmet. Recently returned from banishment, Nevery Flinglas is not angered by the boy's thievery, just surprised the stone's power didn't kill the orphan. Accordingly, Nevery takes him on as a potential apprentice and offers him refuge in his crumbling home. Soon, Conn must enroll in wizard school, find his own magical stone and help his master determine the cause of Wellmet's diminishing magic while avoiding some unsavory characters. Prineas depicts Conn, the narrator, as refreshingly candid and a quick study while revealing Nevery as insightful and unexpectedly caring. Interspersed throughout and printed to look like facsimiles, Nevery's journal entries and correspondence offer intriguing counterpoint to Conn's perspective; sketches of characters and places, incorporated on the first page of each chapter, also lighten the lengthy text. The magical fireworks do not explode until the end, leaving readers confident that Prineas will turn up the heat in the next installment. Ages 10–up. (June)
Bulletin of the Center for Children's Books review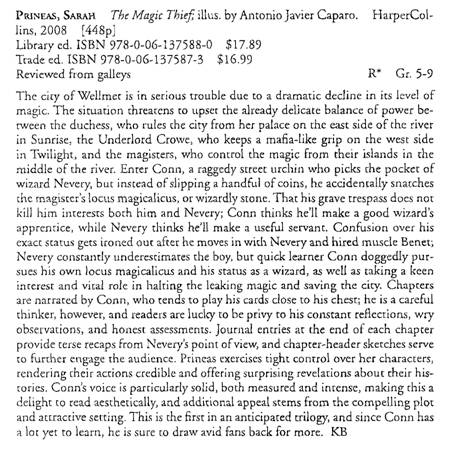 [starred] Prineas, Sarah
THE MAGIC THIEF: Book One
Illus. by Antonio Javier Caparo

An uncommonly engaging young narrator kicks this debut fantasy ahead of the general run. Street-rat Connwaer's skill at picking locks and pockets comes back to bite him when he tries to steal the "locus magicalicus" talisman of gruff sorcerer Nevery Flinglas. Suddenly, Conn finds himself apprenticed to the magician, searching for a locus magicalicus of his own (all magicians have to have one), and deeply involved in discovering why all magic is rapidly draining out of the town of Wellmet. Canny, a quick study and endowed with a heroic appetite for biscuits, Conn works his way into the hearts of both his master and the mystery, meeting several memorable characters—notably Benet, a surly hired thug who can cook and knit as well as he can break heads—along the way to a literally explosive climax. All in all a sturdy start, illustrated with Caparo's realistic portraits at the chapter heads and reminiscent of Angie Sage's Septimus Heap tales (Queste, 2008, etc.) in style and setting. (map; glossary, runes and biscuit recipe not seen) (Fantasy. 10-13)
Booklist (starred)
The Magic Thief.
Prineas, Sarah (Author)
Jun 2008. 426 p. HarperCollins, hardcover, $16.99. (9780061375873). HarperCollins, library edition, $17.89. (9780061375880).

Young Conn opens the first volume of this new trilogy, noting "A thief is a lot like a wizard." Conn is a thief but, through desire and inevitability, becomes a wizard by book's end. This evolution begins when Conn picks the pocket of the wizard Nevery, who is startled that the nicked magical stone didn't kill the boy. Nevery takes on Conn as a servant, but the boy's inquisitiveness and talents move him to apprentice status. Nevery has recently returned to Willmet to save the city-state, which is faltering as its magic seeps away. As Conn becomes more enmeshed in his new life, he navigates through the intricate dealings of both the wizarding world and the political machinations of the Underlord. The events are not as lively as in some middle-grade fantasies—though Conn's turn as a cat is delightful, and his search for his own stone is very well played. What works wonderfully well here is the boy's irresistible voice, which is supplemented by the writings of Nevery in his journal, its creased and stained pages appearing as apart of the design. Readers will particularly enjoy the way Conn often knows just a little more than his master, and they'll look forward to seeing how much more he learns as the series progresses.

— Ilene Cooper
The Magic Thief by Sarah Prineas and Antonio Javier Caparo
Stealing Hearts of Readers in 9 Languages!
a review by Julie M. Prince

The Magic Thief has been added to my collection of "books that had to be read straight through because I was so engrossed in the story."

Connwaer, aka Conn, is a gutterboy living on the streets of the Twilight, the seedy and dangerous part of Wellmet, Conn has survived on instincts (stick to the shadows), skill (lock-picking and pick-pocketing), and sheer luck. Or has he? When Conn steals from a man who turns out to be a wizard, it becomes apparent that Conn may have more than just luck on his side. He may have what it takes to become a wizard himself.

I'm quite sure this book will have critics who will compare it the Harry Potter series, amongst others, but true book lovers know familiar storylines will always re-circulate. When written well, these storylines make readers feel as though they're slipping on a comfy old pair of shoes. In this case, warm and fuzzy slippers, since I didn't leave my house from the time I started the book until I finished it the next day. But, if anyone sees my boss, I was—cough, cough—sick. I swear.

"Sure as sure," it's Conn's character that sells the book. His spirit burns right through the pages. He's quiet, which serves to make him astute and observant about the things that go on around him. He reads people and their intentions perfectly. The thing I love most about him, though, is his resilience and pride. He's willing to do what he must to survive, but he has clear personal boundaries that cannot and will not be crossed.

The sketch-style illustrations, by Antonio Javier Caparo, are a great addition to chapter headings that make an already fun book even more so.

Author, Sarah Prineas, already has more books in the works for this series, and I'll be impatiently waiting for more.

Off to turn another page….
THE MAGIC THIEF by Sarah Prineas
Category: Fantasy
Age Recommendation: Grades 6+
Release Date: 6/3/08
Publisher: HarperCollins
Reviewed by: Lynn Crow
Rating: 5 Stars

Conn was just hoping for a few coins to buy food when he picked the pocket of the wizard who passed his alleyway. What he gets is an adventure far bigger than he could have imagined. The wizard, Nevery, takes an interest in Conn, and takes him in as a servant and then an apprentice. With regular meals, blankets to sleep under, and enough magical objects and lessons to keep Conn's eager mind occupied, the once-homeless boy couldn't be happier.

Unfortunately for Conn, nothing is as simple as it seems. Before he can truly become an apprentice, he must find his locus magicalicus (the stone which will focus his magical power) in a most unlikely place, convince Nevery that one of his fellow wizards is consorting with the city's cruel Underlord, and figure out why the city's magic is fading away–and how to save it–before the city dies from the lack of it. It's a terribly large task for a boy who has only just started learning his letters, but Conn is nothing if not resourceful.

THE MAGIC THIEF will pull readers in so completely that they'll have trouble setting the book aside. The details of the Victorian-esque world are so vividly drawn that readers will feel the chill of the icy winds and taste the buttery goodness of Conn's favorite biscuits. What makes the book particularly special is Conn himself. His voice is lively, with exactly the sort of street-smart practicality and frankness you'd expect from a boy who has spent most of his life on the streets. Despite his criminal background, Conn is good-hearted, and simply longs for a place where he can make something of himself.

Readers will sympathize with his struggle to prove himself to Nevery and the city's authorities, and appreciate his clear-headed thinking amid all the secrecy and scheming of the adults around him. The novel's conclusion is quite satisfying, while leaving lots open for the second book in the trilogy, which many will be clamoring to get as soon as they have finished this one. An all-round enjoyable read that easily stands out from the many fantasy novels on the shelves.
Review: The Magic Thief by Sarah Prineas

I have just finished reading the ARC of Sarah Prineas' MG fantasy The Magic Thief (the benefits of a classical education being a HarperCollins author). I always hold my breath now when I pick up a book by someone I've come to know online, just in case I don't like it nearly as well as I like the person who wrote it. But in this case there was no need to fear — this book made me absurdly and enormously happy, and it made me like Sarah Prineas even better. The Magic Thief has a number of familiar fantasy motifs and character types. But in Sarah Prineas's hands a story that could have been predictable instead has a wonderful freshness and vitality about it. The invented world in which Conn moves has a Dickensian flair without being merely alt-Victoriana, and its magical system is both well imagined and intriguing. The characters in The Magic Thief are realistically flawed and fallible, yet they never lost my interest or (where appropriate) my sympathy; I particularly liked the way that Prineas developed a couple of the secondary characters, subverting my expectations of them in a surprising and satisfying way. And her hero — well. I have a weakness for thieves to begin with, but by the end of the first chapter I was grinning idiotically (always a good sign) and I knew that I was going to like Conn very much indeed.Also, on a somewhat random note — one of her male characters knits. Between this and Laini Taylor's Blackbringer I predict that men knitting is the next hot trend in fantasy, right on the heels of naming your lead male character Finn (seriously, I have read no less than six children's fantasy books in eight months with Finns in them. What gives?).Anyway, The Magic Thief will be out this June, it's the first of a trilogy, and it's wonderful. If you enjoy quick-paced, engaging MG fantasy, you won't regret preordering this one.
Reviews of The Magic Thief: Lost
A review from Kidsread.com
An awesome five-star review from TeensReadToo.com 
Here's a review by Canadian reader and author James Bow
Another book blogger review
And another 
First Look reviews from HarperCollins
Eva's Book Addiction review
Literate Lives blog review
Storytime Books (in New Zealand!)
A discussion of fantasy thieves at The Enchanted Inkpot
Dark Wolf's Fantasy Reviews
A wonderful review from The Bookbag in the UK
The SF Crow's Nest (UK)
The Reading Tub
Author Linda Joy Singleton's review
Charlotte's Library
The Reading Tub
Journey of a Bookseller
The Happy Nappy Bookseller Blog
Mostly Books blog – review  
A review from Charlotte's Library!
A very nice review from the Happy Nappy Bookseller
The Reading Tub liked The Magic Thief: Lost!
from the School Library Journal:
PRINEAS, Sarah. Lost. Bk. 2. illus. by Antonio Javier Caparo. 391p. (The Magic Thief Series). maps. CIP. HarperCollins. 2009. Tr $16.99. ISBN 978-0-06-137589-7; PLB $17.89. ISBN 978-0-06-137591-0. LC 2008022595.
Gr 4-6–At the conclusion of the first volume, wizard's apprentice Conn lost his locus device, which he used to communicate with his city's magic, so at the start of this volume he resorts to pyrotechnic experiments to communicate with Wellmet's magic instead. After his experiments go awry, he is exiled and joins a mission to the city of Desh, which may be the source of the evils plaguing Wellmet. With help from his friend Lady Rowan, leader of the mission, Conn uses his street smarts and his knowledge of magic to try to understand who is behind the malevolent Shadowmen. His goals and guesses are opposed by a variety of characters, leading to intrigue and conflict. Prineas's detailed magic has its own logic, and an abundance of clues to the evil will intrigue and confuse readers as they try to solve the mystery along with the protagonist. Conn's first-person narrative is paired with letters from his mentor and other characters, allowing Prineas to reach beyond the limits of the main character's viewpoint. Conn's relationship with Rowan continues to grow, providing both humor for the story and depth to both characters. A fun read for fans of fantastic adventures.–Beth L. Meister, Milwaukee Jewish Day School, WI
Locus!:
Sarah Prinease, The Magic Thief:Lost (HarperCollins 978-0-06-137589-7, $16.99, 392pp hc) May 2009. Cover by Antonia Javier Caparo.

The second book in this amusing young-adult fantasy series finds apprentice mage Conn still without a locus magicalicus, since his old one was destroyed saving the city of Wellmet. Without a locus, he can't do magic, or even study at the academicos – but he can hear the city's magic speaking whenever he sets off an explosion. He starts experimenting with explosives, but things go blooie in a big way, and he ends up exiled, with only a clue that the deadly shadows now haunting Wellmet are somehow tied to the desert city of Desh, ruled by a sorcerer king. Conn manages to attach himself to a diplomatic mission heading that way, and adventure naturally follows. This lacks some of the fresh charm of the first book, but Conn's as wonderfully stubborn as ever.

Kirkus!:

THE MAGIC THIEF: Lost
Illus. by Antonio Javier Caparo

Apprentice magician Conn battles a new magical threat while continuing to drive friend and foe alike mad with irritation in this headlong sequel. As the clueless magicians of the local college continue to deny reality, a rising tide of attacks from Dementor-like Shadowmen prompts the Duchess to send her daughter Rowan to the distant desert city of Desh to see if it has been similarly afflicted. Having blown up his home in a pyrotechnic experiment and left beloved bodyguard/nanny/cook Benet badly injured, remorseful Conn invites himself along—and soon finds evidence that the sorcerer-king of Desh is hiding something ugly indeed. Told in a mix of narrative and correspondence, the tale hurtles along to a climax in which Conn deals Evil a sharp setback that also sets up the next episode. Readers of the opener will understand the sometimes complex relationships better than latecomers, but the sequel stands sturdily on its own, and Conn, equally gifted at picking locks and being a thorn in the side of all, remains a vivid, memorable lead. (maps, recipes, thumbnail bios) (Fantasy. 11-13)
Buffalo (NY) News:
The Magic Thief: Lost by Sarah Prineas (illustrations by Antonio Javier Caparo, HarperCollins, 391 pages. ($16.99) Ages 10 and up

Iowa author Sarah Prineas lives up to the promise of her marvelous debut in this second book of a trilogy, told in the memorable voice of gutterboy apprentice Connwaer. This time the city of Wellmet, which has long been protected by magic, is threatened by shadows that can turn living things to stone and the queen is attacked in her bedchamber. The action takes the queen's daughter, Rowan, and Connwaer — who has run afoul of his wizard-mentor Nevery — on an "envoyage" to the desert city of Desh in search of answers, resulting in a cliff-hanging finale. Prineas weaves a truly magic spell, using vivid language (the "gray grizzle" of rain) and evocative place names Wellmet, Sunrise, Twilight to create a fascinating fantasy. Connwaer's past as a street urchin and lockpicking-thief adds an interesting Dickensian quality to the story. His interest in wizardry and pyrotechnics (in this book every wizard must find his special wizard stone, but Conn's was destroyed in an explosion in the first book) make him a worthy entertainment for Harry Potter fans. The illustrations add to the fun; at the end find a guide to people and places, swordcraft terms and a recipe for "Conn's Frog Pot Pie With Biscuit Crust."
A positive review from Booklist!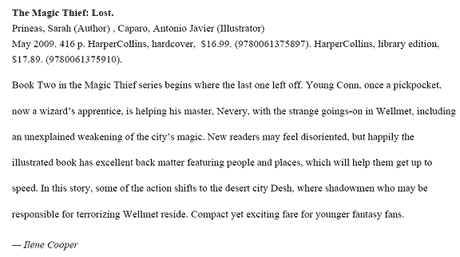 And from VOYA:
In this second book in The Magic Thief series, Conn has managed to save the town of Wellmet with the assistance of magician and mentor, Nevery. All should be well; however, there is still something lurking beneath the surface, a darkness that compels Conn to leave Wellmet and travel to Desh. It is there that Conn discovers the origin of the darkness. Can a lowly magician-in-training tackle the threats posed by the head magician of Desh, a man whose malevolence is almost palpable? Although this book will stand alone, the relationships among the various key players, introduced in the first volume, deepen. In addition, there are plot threads that are developed in the second book. and some are left dangling for subsequent series novels. Conn, like Harry Potter, is beginning to discover the power of his own magic, although he has little formal training and hardly any control over the outcome of his machinations of the pyrotechnics that serve as the basis of his power. Strong female characters populate Conn's world, opening the series to girls as well as boys. Short chapters with plenty of suspense make it a good choice for reluctant readers. Unfortunately T\the interior illustrations suggest a younger audience, but a good booktalk should help this book find its readers. Reviewer: Teri S. Lesesne