About
I'm a writer living in Iowa City, Iowa. Have you heard the Interstate-80 Iowa song? It's about driving through Iowa: "corn, corn, corn–look a tree!–corn, corn, corn, Iowa Citeeeee". That's pretty much what it's like. I love living in Iowa.
Here's a picture of me: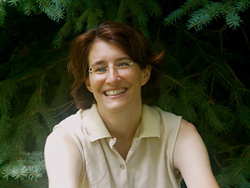 And here is a picture of my kitchen table, which is where I write: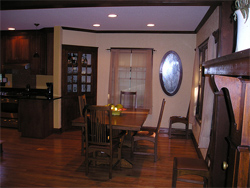 I write on a computer named Pip, a shiny silver stealth MacBook laptop with a crow sticker on it.
If you're wondering how to pronounce my tricky last name, Prineas, click here.
My husband is a mad scientist. Here's a picture of the Device in his physics lab: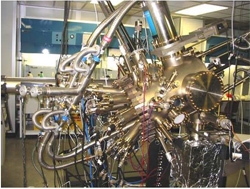 There's a Device in The Magic Thief, too. What a coincidence!
We have two kids and two cats. Here's one of the cats: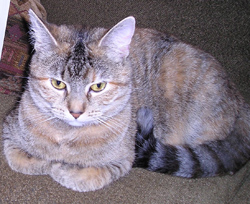 And I have a dog!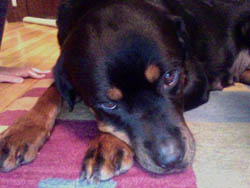 Her name is Athena, and she is a goddess among dogs.
Here are some more things about me: Originally I'm from Lyme, Connecticut (yes, that's the town where Lyme Disease comes from). I went to college in Minnesota and then did a PhD in English literature.
Before writing The Magic Thief, I wrote a lot of fantasy stories for adults; I didn't even think of myself as a writer for children until my agent sold the book and two sequels to HarperCollins Children's. Now I'm having a lot of fun being a kids book writer.  Another thing about me is that I have a thing for dragons.  I even have a collection of dragon action figures.