Coming Home
Yup, it's true–the fourth book in the Magic Thief trilogy goes out into the world today!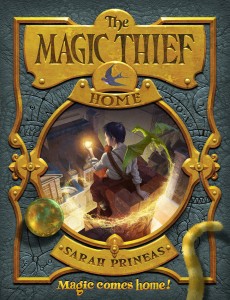 When I wrote this book, it was not under contract–I wrote it because I love the characters and couldn't stand for their story to be over. I'm so happy and lucky that my publisher, HarperCollins, decided to go for another Conn adventure.
As is my tradition, on a book's publication date I post the dedication and acknowledgements, because a book comes into the world through the efforts of many, not just the author.
So! The ded and acks of The Magic Thief: Home!
Dedication
To Charles Coleman Finlay. Without your mentorship, support, and friendship, I would not be a writer. Thanks, Charlie.
Acknowledgements
Loads of thanks to this novel's first readers: Greg van Eekhout, Jenn Reese, Ingrid Law, Robin LaFevers, Deb Coates, Lisa Bradley, and Dorothy Winsor.
To my genius editor, Antonia Markiet, an her editorial assistant, Abbe Goldberg. And the always-outstanding publishing team at HarperCollins Children's: publisher Susan Katz, editor-in-chief Kate Jackson, senior production editor Kathryn Silsand, senior art director Amy Ryan, senior designer Tom Forget, and production manager Esilda Kerr.
To my agent, Caitlin Blasdell, of the Liza Dawson Associates agency.
To readers Edie Parsons, for getting Benet together with Captain Kerrn, Toby Barnes, for the extra bacon, and Tasha Kazanjian and Nancy Fink.
To my mom for the eggplant surprise.
And thanks to all my dear families, especially my mom and dad and the memory of my dear old Sparks-like grandma, Anne Hudson Hankins.