Moonkind!
Today is Moonkind's book birthday!  It's the third book in the Winterling trilogy, in which Fer has to deal with the consequences of a very bad decision, and Rook proves what it really means to stay true.  Also: giant spiders.
As is traditional on this date, I blog the dedication and acknowledgements page from the book because even though I write the words, a lot of other people helped turn it into a book.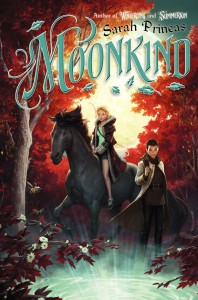 Dedication
To Deb Coates, who taught me that dog reasons are not our reasons.  Also to her dog Blue, who thinks about rabbits even more than Rook does.
Acknowledgements:
Thanks to
My editor, Antonia Markiet, who is a freaking genius.  And to associate editor Rachel Abrams and editorial assistant Abbe Goldberg.
My agent, Caitlin Blasdell, and Liza and Havis Dawson at the Liza Dawson Associates agency.
To the wonderful publishing team at HarperCollins, publisher Susan Katz, editor-in-chief Kate Jackson, editorial director Phoebe Yeh, senior production editor Kathryn Silsand, copy editor Kara Levy, senior art director Amy Ryand, senior designer Tom Forget, production manager Shayna Ramos, associate publicist Olivia DeLeon, and cover artist Jason Chan.
To my first readers and dear friends Deb Coates, Greg van Eekhout, and Jenn Reese.
To the Blue Heaven crew for helping me survive yet another exciting medical emergency, especially Charlie Finlay, Rae Carson, Toby Buckell, and Cassie Alexander.
To Jessie Stickgold-Sarah for making Fer a better rock-climber.
To my wild animal children, Maud and Theo, and to my dashing mad-scientist husband, John.