Winterling prequel!
"Thrice Sworn" is out today!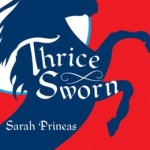 It's a short e-story about how Rook became thrice sworn, thrice bound to the Mor, and how Finn/Phouka came to be stuck in his horse form.  Here are links to three online stores where you can buy it, if you want to read it!
"Thrice Sworn" at Kobo (independent bookstores)
"Thrice Sworn" at Amazon (Kindle)
"Thrice Sworn" at Barnes & Noble (Nook)
If you're a Magic Thief reader who hasn't tried the Winterling books yet, this story is a good test to see if they'll work for you!
Happy reading!!