Bitter Kingdom–CONTEST OVER
Thanks for stopping by!  The contest for Bitter Kingdom ARC is OVER.  
Do stop by again for future sentence games!
Coming in September, it's The Bitter Kingdom, the highly anticipated third book in Rae Carson's fabulous YA Girl of Fire and Thorns trilogy.
Because of Rae's well known fondness for the feline species, I am replacing the usual dog-with-ARC picture and instead present you with this: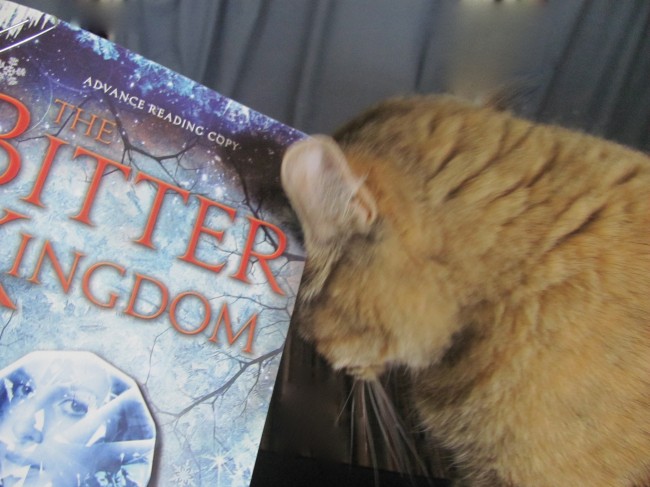 I call it "KITTYRAGE."
Or maybe it's "KITTYLRRRVE."  Seriously, my cat has a Thing for Hector.
YOU can win an ARC (an early review copy) of this book by playing the sentence game!
All you have to do to enter is pick a number between 1 and 433 and post it in the comments. I'll respond with a sentence from that page in the book. When we're all done (12:00 midnight on Friday), I'll do a random number generator thingy and that person will be the winner, and I will send you the book.
Come back and read all the comments, and you'll get some Hectorlicious sneak peeks!
[Oh, and if two (or more!) people pick the same page, that's fine–if that page number is the winner, I'll just do another random generator thingie for that page.]
Good luck!