Summerkin sentence game!
In just a couple of weeks, Fer and Rook's adventures continue in Summerkin, a companion book to Winterling, and to celebrate, I'm giving away a signed first edition hardcover.  Here is my adorable dog Fin with the book: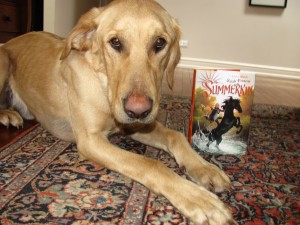 (Fin and Rook would be best friends.)
You can take Fin's place in this picture by entering the sentence contest!
All you have to do to enter is pick a number between 1 and 260 and post it in the comments. I'll respond with a line from that page in the book. When we're all done (12:00 midnight on Friday), I'll do a random number generator thingy and that person will be the winner. Be sure to include your email when you leave your comment so I can contact you if you win.
Come back and read all the comments, and you'll get some sneaky-puck sneak peeks!
[Oh, and if two (or more!) people pick the same page, that's fine–if that page number is the winner, I'll just do another random generator thingie for that page.]
Good luck!
Posted in
Contests
on 04/10/2013 03:10 pm