It's Winterling Paperback Day–With Give-away!!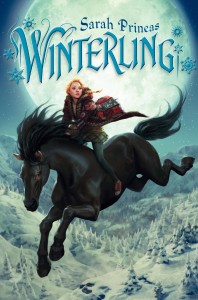 Today–February 5–Winterling is out in paperback.  This edition has extras in the back including a what-wilding-animal-are-you quiz and an interview between Rook and Grand Jane (if you've read the book already, you'll probably guess that Rook is obnoxious in this one).  
To celebrate, inspired by Jenn Reese (to whom the book is dedicated), I'm giving away 20 (TWENTY!!!) copies of the Winterling paperback today.  But there are rules.  Rook would not follow these rules–truly, he would scoff at them–but you must swear an oath to abide by them.
The give-away is for TEACHERS AND LIBRARIANS (or homeschooling parents) who know a student who will enjoy reading Winterling.  Basically I'll send you (teachers and librarians) a free copy to give to a kid reader.
All you have to do to enter, teacher or librarian or homeschooling parent, is comment with your school address, and I will send the copy to you.  If you're not comfortable posting a school address here, you're welcome to email me instead at thiefofmagic@gmail.com.
If you're a kid reader, it's okay to get a teacher or librarian to enter for you!
Also, if you've read this far, you have a chance for an extra prize.  ONE entrant will also receive an ARC (advanced copy) of the next book in the series, Summerkin.  All you have to do is mention "Summerkin" in your email or comment.
Good luck!