ARC Giveaway!!
It's an ARC (Advanced Reader Copy) giveaway, which means if you win you get to read these middle-grade fantasy novels before they are released in any bookstore in the entire world!  Three books are up for grabs to a winner chosen by random number drawing:
The first is Under Wildwood by Colin Meloy, the second book in the Wildwood Chronicles.
The second is Darkbeast by Morgan Keyes.
The third is The Peculiar, by Stefan Bachmann, a hotly anticipated steampunk alt-England fantasy from Greenwillow.
To Enter, all you have to do is leave a comment (be sure to leave your email address, too, so I can contact you if you win).  If you want, tell me the best book you've read in the last month or two.
And as proof that I have these actual ARC's in my actual possession, here is a picture of them: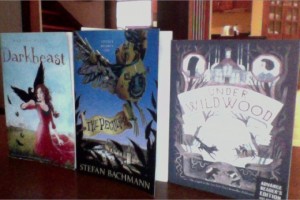 If this contest gets more than 200 entries, I'll tell the funny story of how Stefan and I first met, years ago.
Contest ends at midnight on Friday.
Good luck!!!