(Contest ended) Win an ARC of GOBLIN SECRETS (plus extra prize)!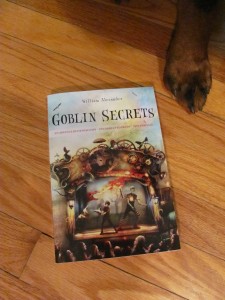 THE CONTEST HAS ENDED!!  Thanks for stopping by–do come again!
I have hereby given up trying to get my dog into these book pictures.  She's a Rottie and she's stubborn, and she just won't do it.  So it's paws up for William Alexander's terrific MG debut Goblin Secrets, coming in March from Margaret McElderry Books/Simon & Schuster.  It recently got a starred review from Kirkus!
You can win a copy!  All you have to do to enter is pick a number between 1 and 225 and post it in the comments. I'll respond with a line from that page in the book. When we're all done (12:00 midnight on Thursday), I'll do a random number generator thingy and that person will be the winner. Be sure to include your email when you leave your comment so I can contact you if you win.
Come back and read all the comments, and you'll get some awesome sneak peeks!
AND there's an extra prize!  Last week I got a big box of library edition copies of The Magic Thief.  These are from the third printing, so not collectible, but they're sturdily-bound hardcovers that one random winner can keep or give to his/her favorite library.
Good luck!
Posted in
Contests
on 02/21/2012 06:00 pm