Today is the day!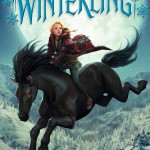 Yup, my new book, Winterling, is released into the world today.
As is traditional, I celebrate book-release day by posting the acknowledgements page.
No book is created only by its author.  Without a publisher the book would be a mess, and without friends and supporters the writer's life would be a lonely one.
So without further ado, the acks for Winterling:
Beginning with the dedication:
To Jenn Reese.  For you, and for the girl you once were.
Acknowledgements.  Many thanks…
To my wonderful editor, Antonia Markiet, who shines light into the dark places.
And to the outstanding team at HarperCollins, starting with editor Alyson Day, copy editors Amy Vinchensi and Katherine Silsand, editorial director Phoebe Yeh, publisher Susan Katz, associate editor Jayne Carapezzi, art director Sasha Illingworth, production supervisor Ray Colon, Tony Hirt, publicist Marisa Russell, cover artist Jason Chan.
To my agent, Caitlin Blasdell, and her ruthless critiques, ow, ow, ow.  And to the Liza Dawson Agency, especially Havis Dawson.
For support and friendship, Ingrid Law.  I believe we have a lunch date coming up, my dearest…!
Jennifer Adam, who kindly answered all my questions about horses, and about not-horses.  Lisa Will, astronomer consultant extraordinaire.  Jon Michael Hansen for the archery info.  Deb Coates, the dog whisperer.
To bookseller Beth Yost from Cover to Cover Children's Books in Columbus, Ohio, who said, upon reading The Magic Thief, "Um, I actually like that story you wrote about the changeling girl…"  Beth, you inspired me to turn that story into this novel.
To Karen Meisner, Jed Hartman, and Susan Marie Groppi, who actually bought that changeling girl story and published it at www.strangehorizons.com.
This book's intrepid first readers, Rae Carson, Greg van Eekhout, and Jenn Reese.  Also to Dragons of the Corn: Deb Coates, Lisa Bradley, and Dorothy Winsor, and to the memory of Alex Tint.  And to Iowa City's Nano Rebels, in whose company much of this book was written: Wendy Heinrich, Lori Dawson, Amy Luttinger, Britt Deerberg, Bev Ehresman, Susan Benton, Eleanor Ditzel, Dori Hillestad Butler.  And to Jessie Stickgold-Sarah,  Haddayr Copley-Woods, Robin LaFevers, Kristin Cashore, Charlie Finlay, bookseller Shawna Elder, and to the biggest threat to children's publishing to come along in quite a while, Paolo Bacigalupi.
To all my dear families, especially my vegetarian children, my husband, and my mom and dad.
##
Wow.  Typing those names up again makes me realize how lucky I am.  Writer-friends, you are the BEST.  Thank you.