An Asteroid
We writers sometimes talk about "pellets"–little rewards that keep us–like rats–happily running around our writerly treadmills. A good review is a pellet. An email from an enthusiastic reader is a pellet.
Last week, I got something so far beyond a pellet that one of my writing buddies called it an "asteroid." And indeed, it is cosmic and out there, and really wonderful, too.
I live in Iowa City, which is known as a literary town–the world-renowned Iowa Writers Workshop is here, and we have this Literary Walk, which is a line-up of beautiful brass plaques with quotations from the works of authors associated with Iowa and Iowa City, writers like Kurt Vonnegut and Flannery O'Connor, and John Irving. Here is the website describing it.
My asteroid is that the Literary Walk has been expanded, and I'm one of the authors represented.
Usually you don't get a brass plaque until you're dead (in case you can't see it, this is a quotation from The Magic Thief.)
"The old man was a wizard, clear as clear, and what kind of fool sits down to eat dinner with a wizard?"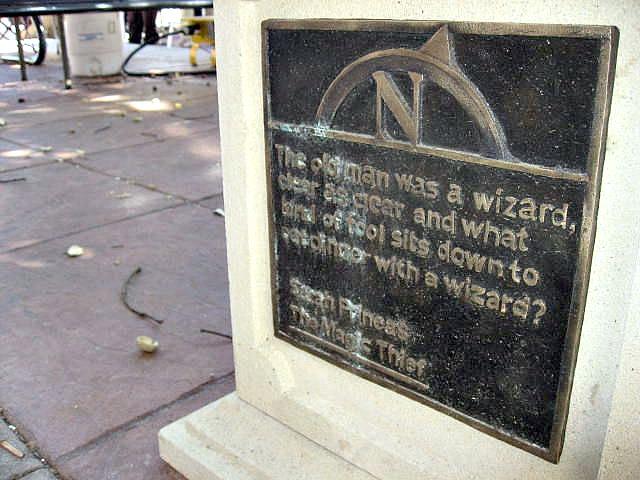 And look, this is me: still alive, with my asteroid!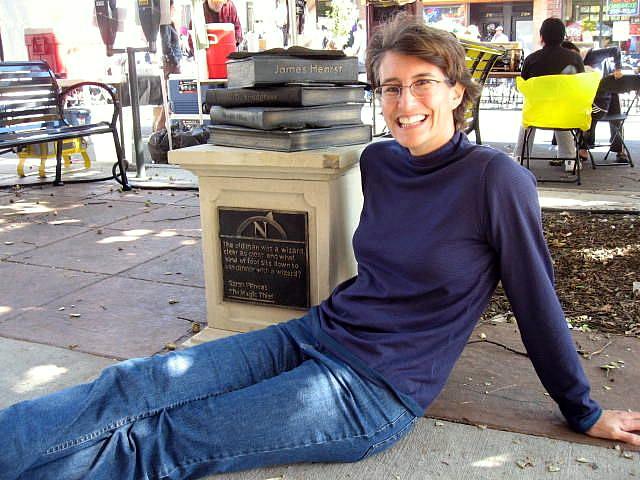 (photos by Kellye Crocker)
Pretty sweet, huh?
Posted in
News
on 10/11/2011 11:51 am