Win an ARC of GIRL OF FIRE AND THORNS!!
This contest is CLOSED. Thanks for stopping by! The winner will be notified soon.
Guys, I LOVE this book, The Girl of Fire and Thorns by Rae Carson.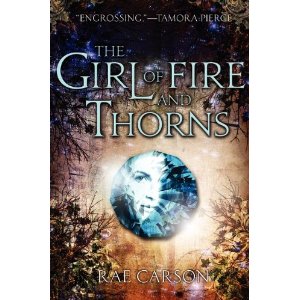 And I'm not the only one:
"Rae Carson's heroine is a perfect blend of the ordinary and the extraordinary. I loved her."
— Megan Whalen Turner, author of Newbery Honor book, THE THIEF
and
"Elisa is a wonderful, believable hero, the kind that every reader can imagine as herself. I charged through the book in two days, savoring Elisa's realness and her unique, wonderful world! Engrossing."
— Tamora Pierce, author of New York Times bestseller BLOODHOUND
You can win an ARC–an advanced reader copy–of the book and read it before everybody else!
All you have to do to enter is pick a number between 1 and 422 and post it in the comments. I'll respond with a line from that page in the book. When we're all done (12:00 midnight on Tuesday), I'll do a random number generator thingy and that person will be the winner. Be sure to include your email when you leave your comment so I can contact you if you win.
Come back and read all the comments, and you'll get some awesome sneak peeks of the book!
Oh, and if two (or more!) people pick the same page, that's fine–if that page number is the winner, I'll just do another random generator thingie for that page.
Good luck!
Posted in
Contests
on 08/22/2011 07:55 am