Win an ARC–An Advanced Copy!
CONTEST HAS ENDED. Thanks for stopping by, and please come again.
So here's the deal. You–yes, you!–can win an ARC of this novel, Bigger Than a Bread Box by Laurel Snyder, which comes out from Random House on September 27th.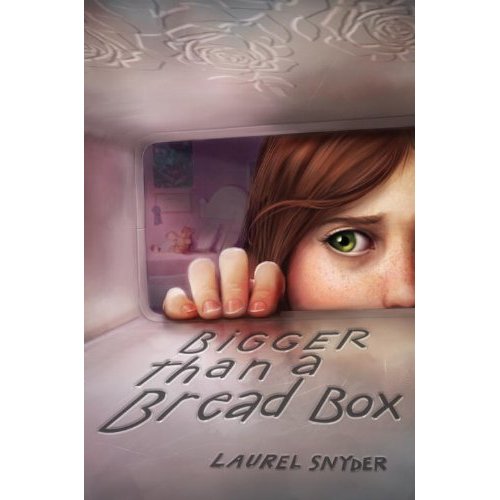 – Dave Shallenberger, a co-owner of the Little Shop of Stories in Decatur, Georgia, talks about the book here:
Rebecca's mother uproots her away from father, friends, Baltimore, and everything she knows and transplants her in Atlanta. At twelve years of age and living at her grandmother's house, Rebecca tries to cope with the help of a magical bread box which produces anything she wishes — as long as it fits inside….[It is] an oftentimes achingly sad coming of age story in which Rebecca has to come to terms with the limits and consequences of her wishes, and with life's circumstances beyond her control. This is balanced by the great sensitivity Laurel has for the protagonist and a wonderfully written sense of place. Bigger Than A Bread Box is a superb book that has continued to resonate long after the last page was read.
All you have to do to enter is pick a number between 1 and 223 and post it in the comments. I'll respond with a line from that page in the book. When we're all done (12:00 midnight on Wednesday), I'll do a random number generator thingy and that person will be the winner. Be sure to include your email when you leave your comment so I can contact you if you win.
Come back and read all the comments, and you'll get some awesome sneak peeks of the book!
Oh, and if two (or more!) people pick the same page, that's fine–if that page number is the winner, I'll just do another random generator thingie for that page.
Good luck!
Posted in
Contests
on 07/26/2011 08:24 am